HAPPY BIRTHDAY, AUDREY!
What a wonderful painting day! The weather seemed iffy, and I was reluctant to leave home, but after two phone calls to verify a rainless situation, I left. Made it a mile, turned around and went back for my lunchbox.
On this post, I will put the explanations beneath the photos. I know that sometimes it is confusing. I am often confused, with a mind blurred by exhaustion when I write these posts.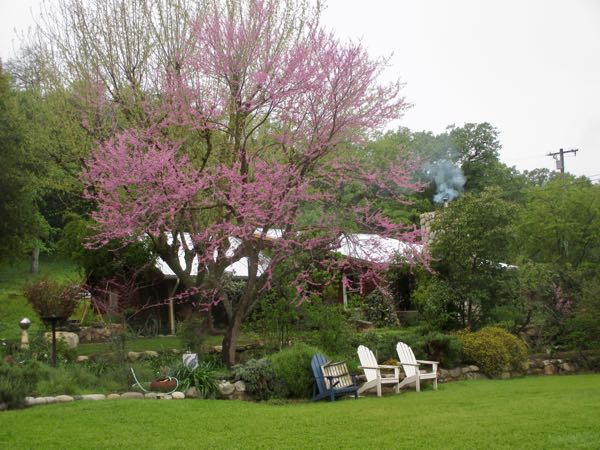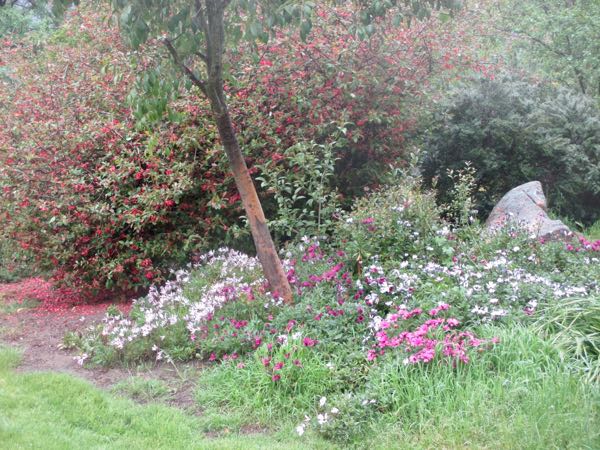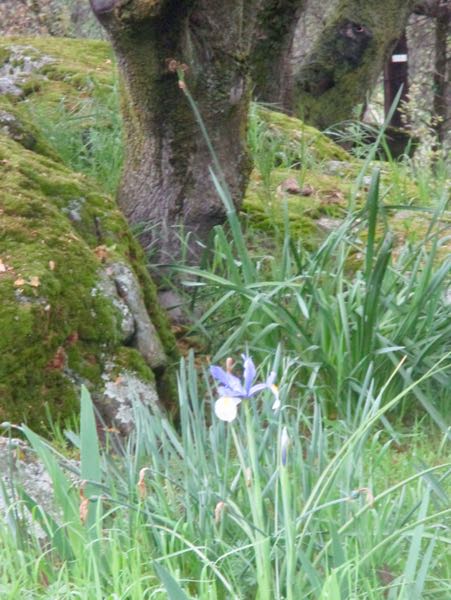 The redbud is in bloom, there was a fire in the wood stove (yikes, don't let the pollution police see that photo), the fake lawn is mowed (weeds, not synthetic lawn), there are flowers, weeds to be pulled, and my one surviving dutch iris is in bloom. Drove down wishing I could stay home, but it was the best painting day I've had so far. It never was hot!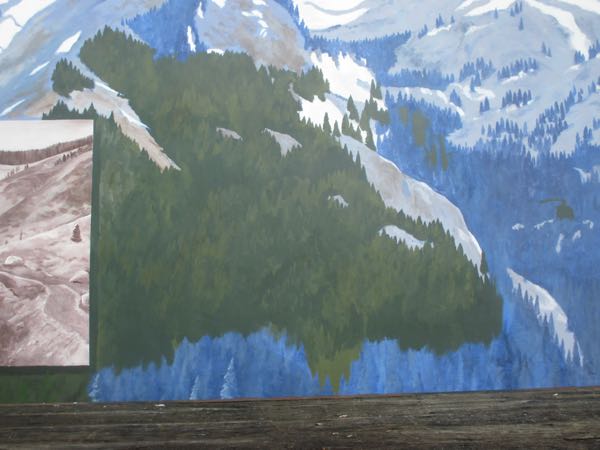 This area seemed so small after I finished it on Monday. I felt discouraged.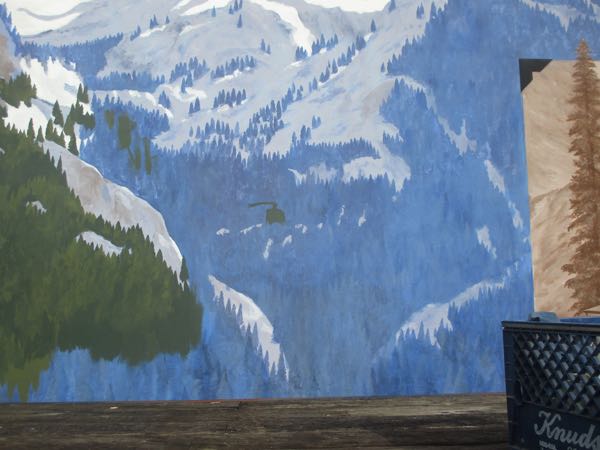 "Small"? It is about 4 feet wide. It would take me a month to do an oil painting of that size! Buck up, Buckwheat. You are right on schedule.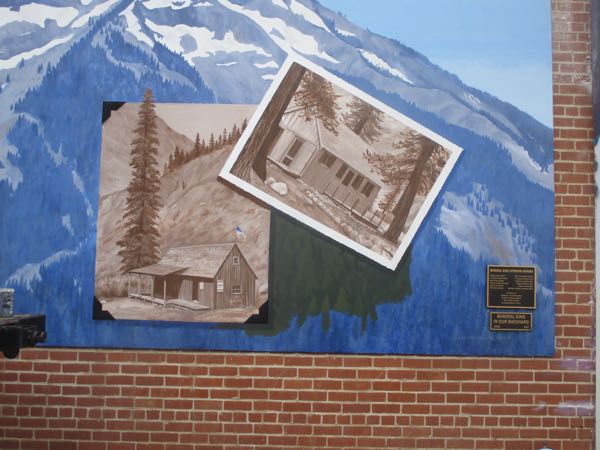 This snapshot of the old Mineral King store appeared to have lost its shadow. I worked on that for a little variety. It still doesn't show well, so I'll strengthen the contrast on another day.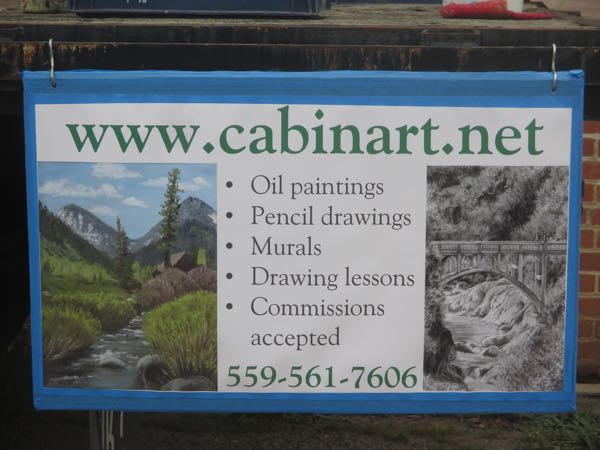 My updated banner arrived and Trail Guy got it ready to hang. It won't fit on the back end of the Freightliner, so I hung it on the side. I'm flexible like that.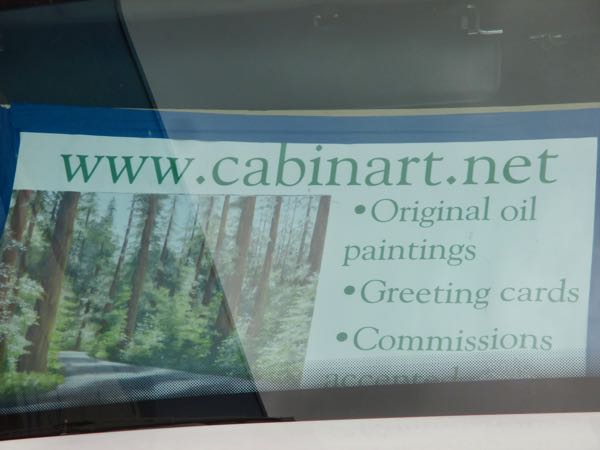 Here is the old banner, acting as a shade device in the windshield of the Freightliner.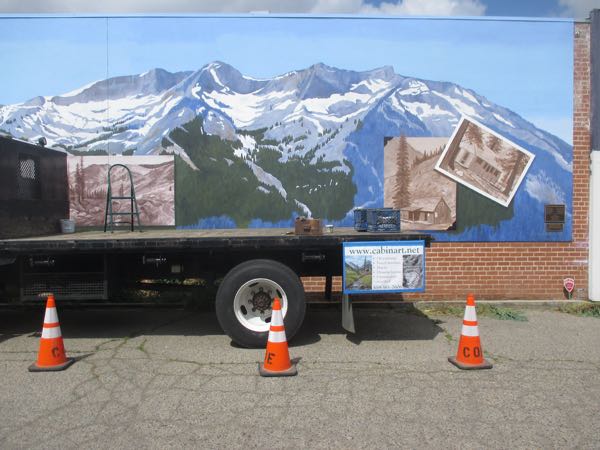 When I stopped painting around 12:30, this was how things looked. I felt hopeful that perhaps I will be able to finish it in the estimated time frame of 12-16 days.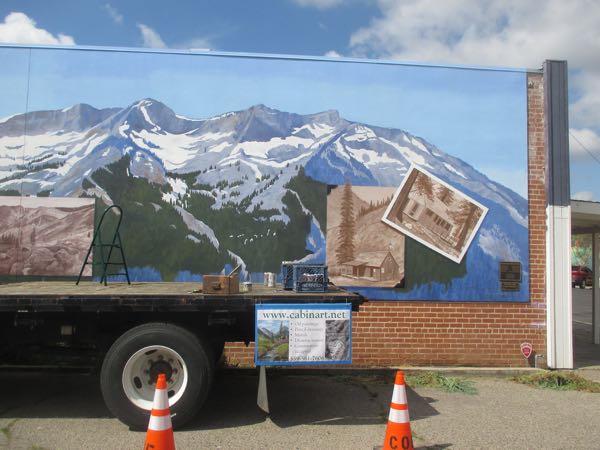 I chose a triangular area on the upper left side of the old store snapshot. It helps to define areas to complete so that there is a sense of progress.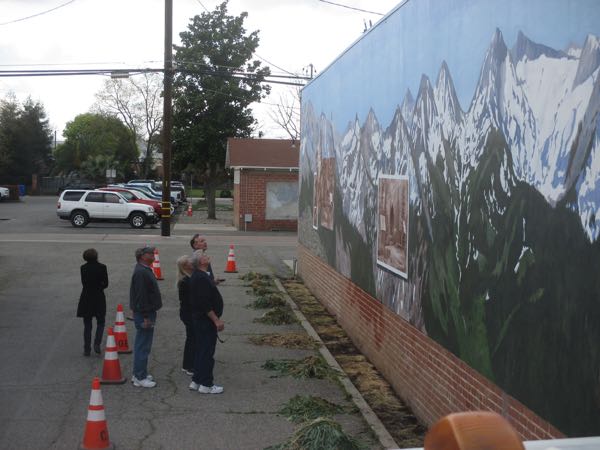 It was a day of many visitors, so many groups and pairs that I gave up writing them down. Lots of explaining about the murals, Mineral King, the reason for repainting, Exeter, even talking about why chains are required in Sequoia when there is no ice on the road. And, showing people where the hidden items are.
Next, it was time to beepbeep, back the truck up. Piece of cake – rear outer tire on the curb, no problem.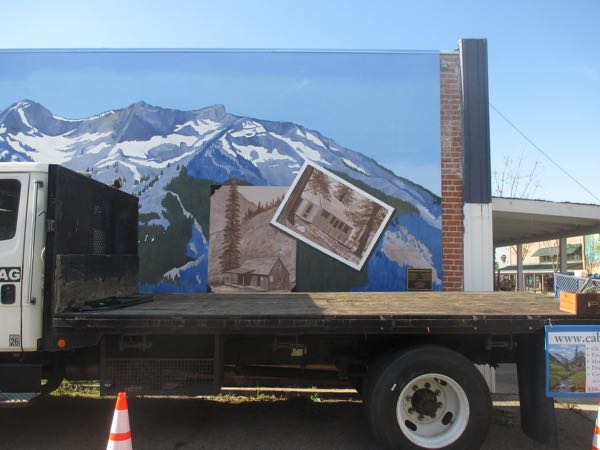 You can see the bed is sort of tilted, because the curb is about 3 inches higher than the asphalt here. But, I can deal with a bit of a slope, because I am flexible like that.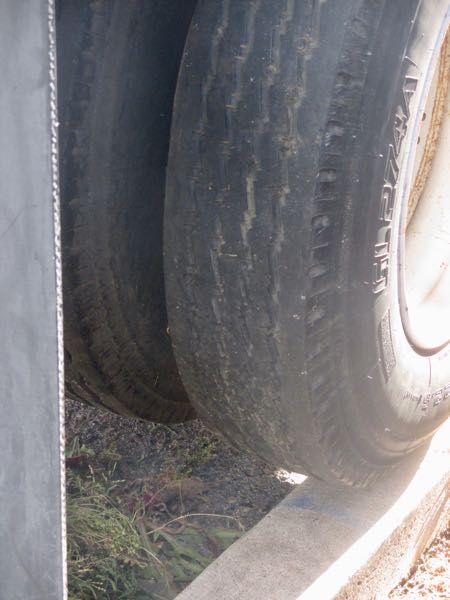 Look at that – the inner tire is floating up in the air!
Today's visitors were too numerous to list. There were folks from Tulare, Visalia, San Francisco, Fresno, and Clovis, Redlands, Vancouver (Washington), plus an entire busload from People's Church in Fresno. Most of the semi-locals had out of town guests with them. This is EXACTLY what the mural team had in mind when we began the project 21 years ago. My friend GE stopped by as did my friend MG. That was a treat! Larry said "Good Morning! Good Afternoon! Whatever it is!"