On Day Twelve, the final day of repainting the Mineral King mural in Exeter, I spent a lot of time staring at the wall to determine what might need a touch-up, some polishing, a minor correction. It was hot, and the longer I stood there, the less I could see to do. Fortunately, there were many interesting visitors to visit with while I contemplated matters of possible consequence.
This is an ore bucket, one of the hidden items. It still seems obvious to me, and may be obvious to other observers. Since it is one of 13 hidden items, it is okay to have a few easy ones.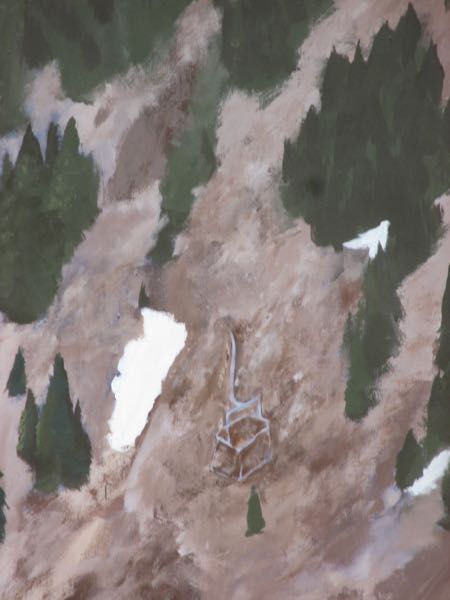 I stared and stared, thinking to show you before and after photos of the polishing process. Now I can't tell which photos are the before and which are the after.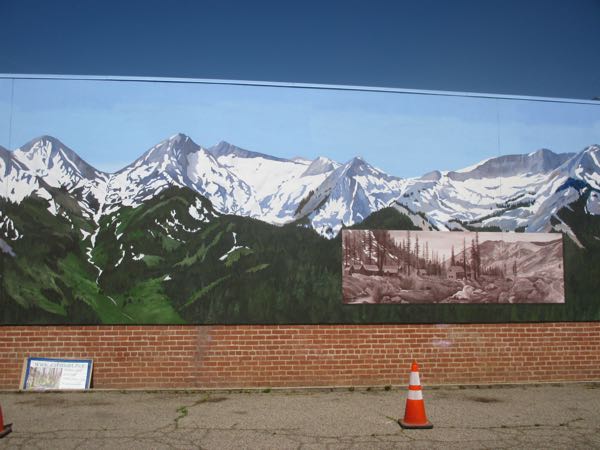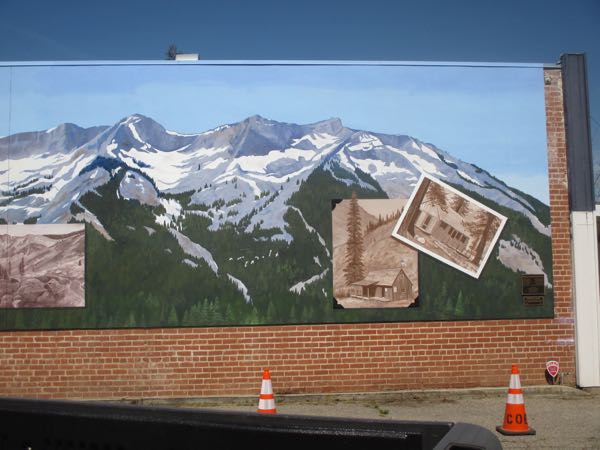 I added what might pass for phlox and groundsel wildflowers to this hill. The heat immediately turned the paint to the consistency of toothpaste and made the brush thick and unwieldy. The flowers don't even show in the photos!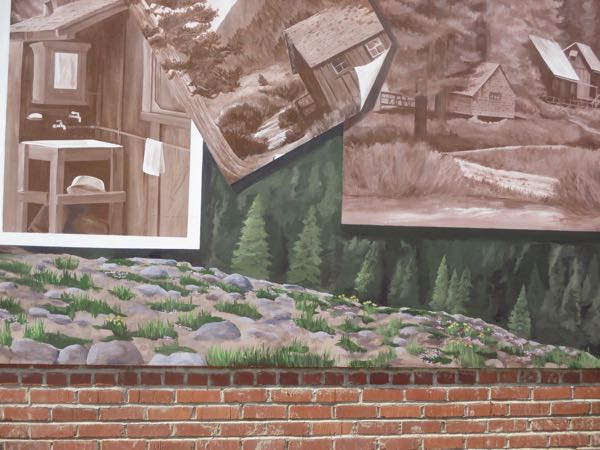 Finally, I signed it. Had the same trouble with the heat and the paint consistency on the signature. I would have kept the old signature, but the brilliant periwinkle blue color was just too weird. Now that I see it on this photo, I wonder why I didn't sign directly beneath the plaque. This might require another visit to the wall, on an overcast day when the brush can retain a point and the paint can retain flow.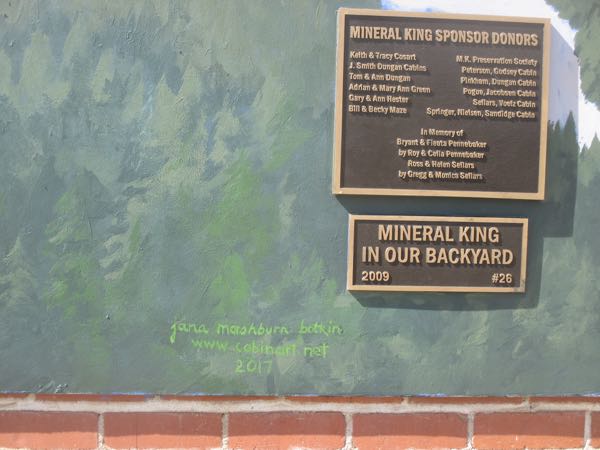 Then, because there was shade on the other side of the parking lot, I stood back and took a few final photos, because the next time I see this, there will be cars parked alongside.
The color isn't as good in the afternoon light as in the morning light.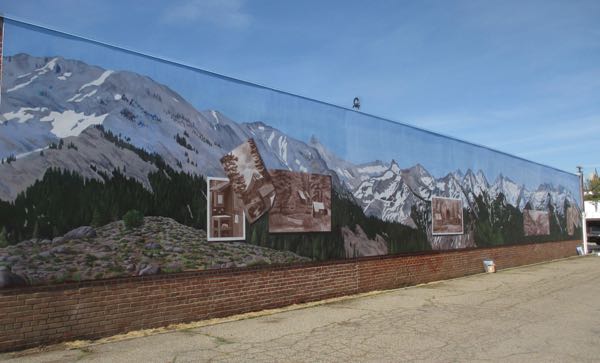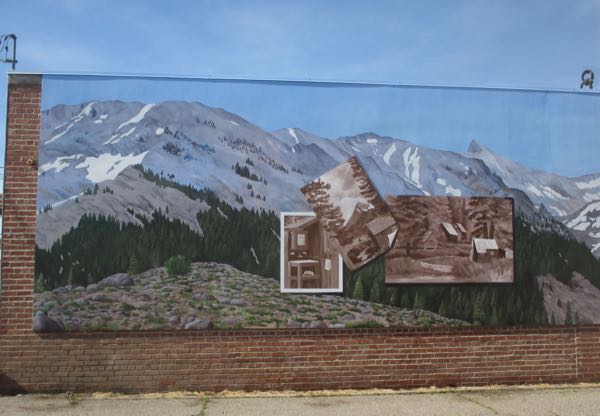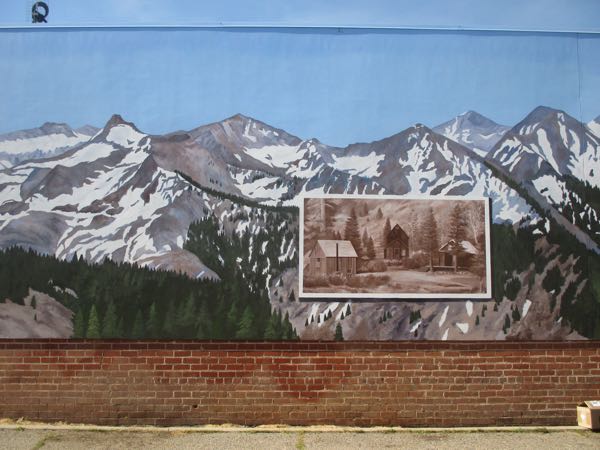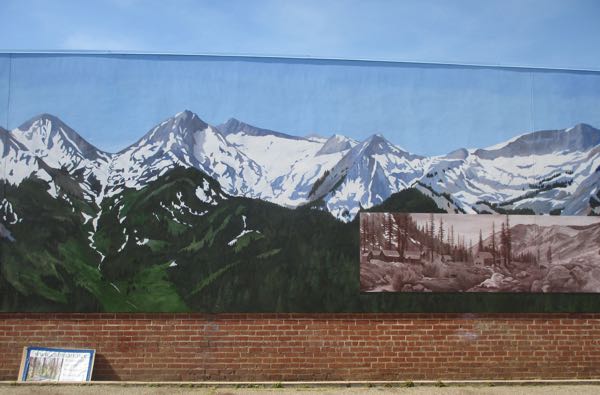 I like this because Marty Weekly's mural "Timber Trail" shows in the distance through the awning. (far right side of photo). Why didn't Marty's fade? I'm sure it goes back to the colors I used; in spite of the high lightfast rating, my yellow was most certainly not light fast or fade resistant. This time using different yellows, it WILL last. I insist upon it!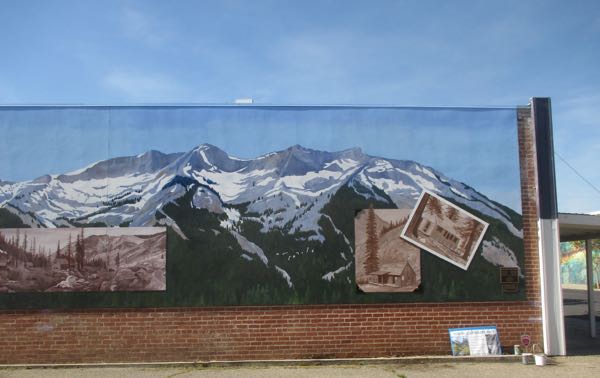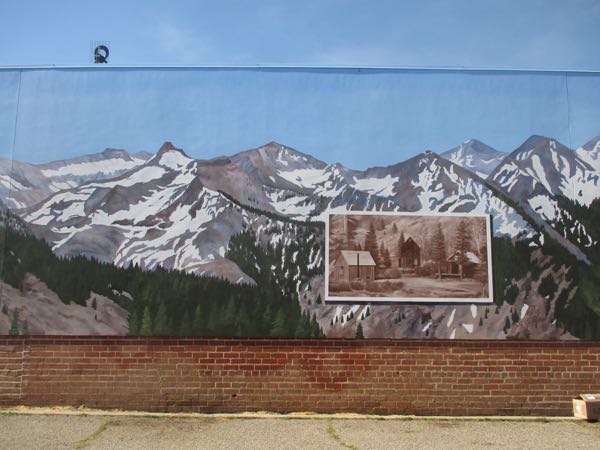 And with this, we conclude our Repainting Mineral King series.
Maybe.