Feb 27 2012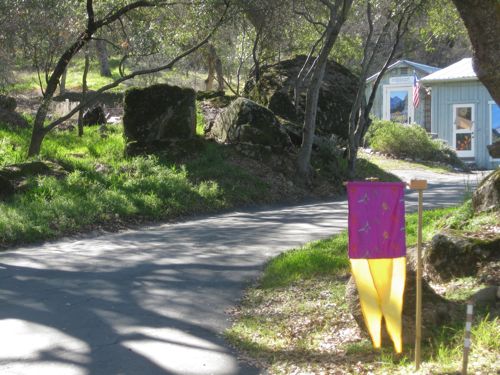 Of all the 22 studios on the tour, mine is the smallest and the most rustic. That's okay – it IS called "Cabinart".  (And please excuse the First Saturday flag – this post is about the Studio Tour.)
Tickets are on sale for $15/person and available at The Art Co-op in Three Rivers and Arts Visalia Gallery in Visalia. They are also available online at Three Rivers Art Studio Tour
After March 4 the price increases to $20 per ticket.
March 23-24-25 will be a beautiful weekend to drive around Three Rivers and visit 22 artists studios. You can do it at your own pace and pick your own route. You can even spend the night, or two nights. Soak up some spring time green and wildflowers in the foothills of the Sierra Nevada. Meet many California artists, remember why you live in Tulare County (or perhaps why you don't), enjoy a rural weekend, slow things down a bit.
2 Responses to "Three Rivers Studio Tour Ten"
#

Deb Fasano

on 29 Feb 2012 at 12:48 pm

I am a winter girl. I love winter. Too many hot Visalia summer days seared my like for heat, dry, dusty, depressing.
But oh how I had forgotten winter in my beloved home town!
How beautiful to see the hills partially green and the blossoms blossoming pink and white.
Awwwwe. It rekindled my love for the San Joaquin Valley. Sigh.

Deb, I agree wholeheartedly with your memories of those endless summer days. And what passes for winter around here is laughable to a Mid-westerner, because February is our most beautiful month!
Leave a Reply